Foreign demand for Vietnam travel news increases in early 2022
The volume of international tourists searching for travel information about Vietnam saw a sharp increase at the start of 2022, according to statistics released by Google Destination Insights.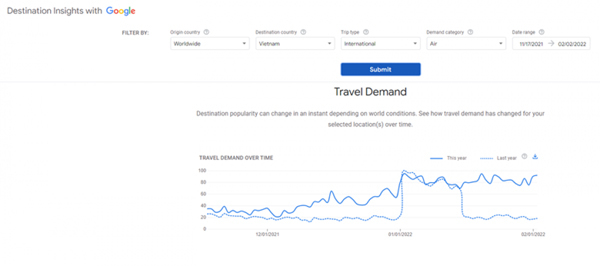 A large number of foreigners search aviation related information about Vietnam.
Google Destination Insights shows the number of people searching for tourism in Vietnam underwent a gradual increase at the beginning of December 2021, before skyrocketing in late December 2021 and into early January.
Over the past month, it reports search results relating to aviation reached at a very high level, up 425% compared to the same period over the last year.
Furthermore, demand for seeking information about accommodation facilities witnessed a sharp rise in early January, marking an annual increase of 42%.
People looking for tourism information in Vietnam mostly came from the United States, Australia, Russia, France, Singapore, India, Japan, Germany, the United Kingdom, and Canada.
This tool also indicates that the top 10 most searched domestic destinations were Ho Chi Minh City, Hanoi, Nha Trang, Phu Quoc, Phan Thiet, Da Nang, Hoi An, Da Lat, Quy Nhon, and Vung Tau.
This recent increase can largely be attributed to the launch of "Live fully in Vietnam" campaign that aims to invite international tourists back to Vietnam, promoting it as a safe and attractive destination.
Source: VOV