Controversial tourist site in Da Lat asked to make some changes
The new tourism area is very colorful and intricate, spoiling the natural beauty of Mimosa Pass.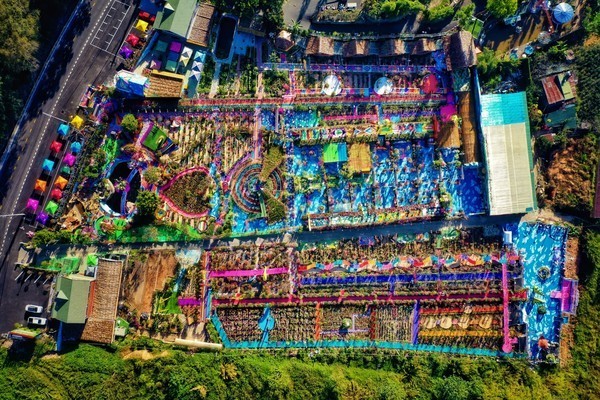 The area has become well known because it has received a rain of criticism.
Photos taken from above of Thuong Uyen Bay Garden, the new tourism site at Khe Sanh Street, Mimosa Pass, Ward 10 of Da Lat City, are being shared widely on social networks.
On tourism forums, most people expressed their disappointment, commenting that it is not well designed and looks like a frightful jumble, with flamboyant colors. They said the work doesn't reflect the natural original beauty of Da Lat.
The tourism site has stirred up arguments, just like the statue of Disney princess Elsa in SaPa once did. The statue was finally removed after much criticism.
Vu Thi Ai, the legal representative of the cooperative, told VietNamNet that she began building the work in 2017-2018. Because of violations, the local state management agencies forced her to remove some unlicensed items. In 2021, after the re-building which strictly followed the instructions, the tourism site obtained an operating license and opened to visitors.
According to Ai, the tourism site is build on agricultural land. On an area of 17,350 sq m, the cooperative grows many flowers. She said there is only one house covering an area of 100sqm, one ticket sale kiosk covering an area of 45 sq m and a product display house covering an area of 100 sqm.
"All of these were built in accordance with the license. Mini scenes and other construction works are not fixed," she said.
"This area is surrounded by green trees, so when building the tourism site, I want to have an outstanding and brilliant work. My idea is creating a royal garden, like the ones of the Kings in the past, right in the middle of Da Lat," she explained.
"I heard criticism, but I don't think about it. I believe that different people have different opinions. I just want to say that I have built the tourism site with all my enthusiasm and the wish to develop local tourism," she said.
Despite the criticism, many people still want to visit the tourism site. On peak days during the Tet holiday, the site received 2,000 travelers a day.
In the latest news, the Lam Dong provincial Department of Culture, Sports and Tourism has sent a document to Xuan Ai Hung Cooperative, requesting to redecorate and gentrify Thuong Uyen Bay Garden.
The department asked the investor to re-arrange garden miniatures and internal paths to ensure color harmony, aesthetics, and environmental friendliness.
The investor has also been asked to restrict the use of materials not friendly to the environment.
Source: VietNamNet