Nui Thung: the angel eye of the mountain in Cao Bang
Located in the middle of a beautiful valley in the border district of Tra Linh, Angel Eye Mountain, locally known as Nui Thung, is a favourite place for camping activities of young people in the northern Cao Bang Province.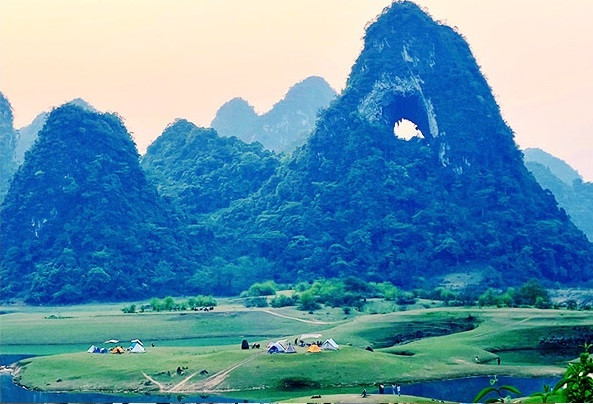 Nui Thung: the angel eye of the mountain in Cao Bang Province.
Nui Thung impresses visitors with its unique appearance as it has a hole, measuring 50m in diameter, passing through its face, which looks like a giant eye in the centre of the mountain.
At the foot of the mountain, campers can find the perfect place to set up their camps on immense grasslands or by green lakes. They can admire charming natural landscapes while walking around and taking photos.
When night falls, the temperatures can drop as low as winter. Even though a campfire may be built, campers should prepare warm clothes in advance.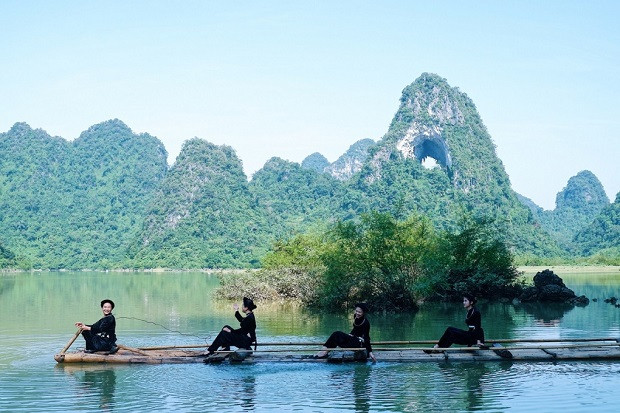 Tay ethnic women rowing a bamboo raft on the lake at the foot of Angel Eye Mountain
Upon rising, an interesting activity at the beginning of the day is paddling a stand-up paddle-board (SUP) on the lake and listening to the birds singing while fog still lingers in the air.
After that, backpackers can join a trek to take a closer look at the "eye" of the mountain, which is a cave crisscrossed with clusters of tree roots.
During their trek, backpackers can encounter Tay ethnic people with friendly smiles on their faces to greet visitors.
Source: Nhan Dan