Dating in green spaces at popular lakes around Hue
Thua Thien-Hue has not been famed with the former royal citadel with valuable architecture of palaces, royal tombs, and spiritual institutions, the province also host various natural landscapes including spectacular lakes.
Thừa Thiên - Huế boasts natural landscapes, including spectacular lakes, which have added to the attraction of this province famous for its royal citadel, palaces, tombs and spiritual institutions.
Truồi Lake – gem of Huế
Located in Lộc Hòa Commune, Phú Lộc District of the province, at the foot of Bạch Mã Mountain, Truồi Lake is like a gem in the middle of the road between Huế and Đà Nẵng cities.
The lake is the first and biggest irrigation system in Huế with a total area of 400ha. The lake stores some 60 million cubic metres of water. In November 2019, the lake was officially recognised as a tourism site.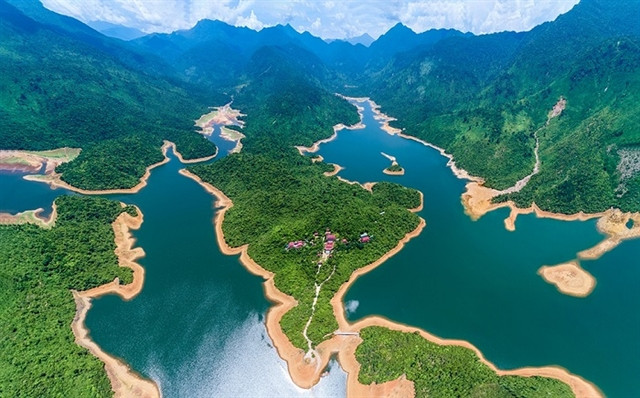 An aerial view of Truồi Lake. — File Photo
A trip to Truồi Lake should be combined with a visit to Bạch Mã Trúc Lâm Zen Monastery, Voi Stream and Lăng Cô Beach.
According to Hồ Hoằng Yên, a boatman at the site, visitors coming to the lake anytime of year can get cool and fresh air and spectacular landscapes.
Taking a cruise is a must at the lake as tourists can see turquoise clear water. Most of the boat drivers, who are locals, can act as tour guides and even photographers for visitors.
"In summer, the lake is like a giant mirror reflecting mountains and sky in bright sunshine while in winter, fog may cover the scenery," Yên said.
The cruise will stop at Bạch Mã Trúc Lâm Zen Monastery in the middle of the lake. The monastery is situated on top of a 1,450m high mountain, which receives some 50,000 visitors each year.
At the foot of Bạch Mã Mountain, visitors will find various streams, namely Hợp Hai, Ông Viên, Ba Trại, and Vũng Thùng, pouring water into the lake.
The local managing board offers tours to the streams, where tourists can hike, catch fish and cook them into various dishes. Visitors can bring along drinks and food to make an outdoor BBQ by the stream.
Khe Ngang Lake – idyllic beauty
Khe Ngang Lake is another man-made lake in Hương Trà District that used to be a part of the local irrigation system and is now utilised for fishing by locals.
Though it is only 12km from the centre of Huế, the lake is surrounded by forest and mountains. Hence, the road here will be a little difficult to travel on. Visitors are advised to search on Google Maps and ask locals for the correct way.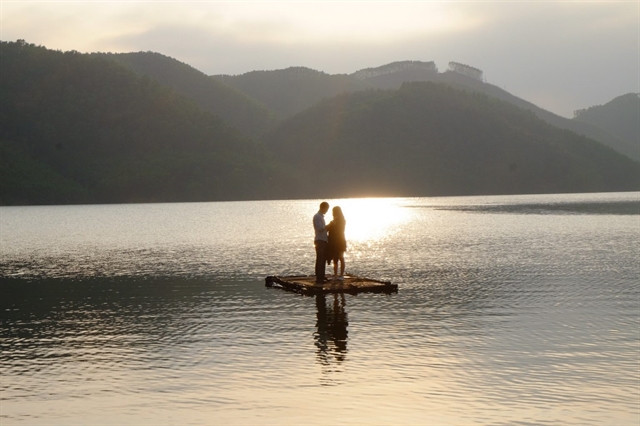 The lake has been chosen as a photo site due to its magnificent beauty. — Photo khamphahue.com
On the way, visitors can admire the tranquil scenery of Huế's rural area. Hương Trà's land has been enriched by the alluvia of the Hương River, helping create lush fields of maize, rice and sugar cane.
"The closer I get to the lake, the more I feel peaceful beauty in the green colour of rice fields, small lanes and cool gusts of wind," said tourist Phạm Hương from Hà Nội. "Maybe the very idyllic features will make Khe Ngang Lake more and more popular."
Deserted lands covered with lush grass surround the lake.
"You can make a lot of photos of the landscape to bring home," Hương said.
A cement dyke is also a popular background for photos.
The lake has been more popular among back-packers from all over the country, who prefer to camp here overnight.
Sơn Thọ Lake – green prairie
Closer to the source of Hương River, Sơn Thọ Lake is situated in Sơn Thọ village, Sơn Trà town, some 20km away from Huế's centre.
The lake is rather remote and there are hardly any tourism services. Visitors are advised to prepare tents, food and drinks if they intend to camp here overnight.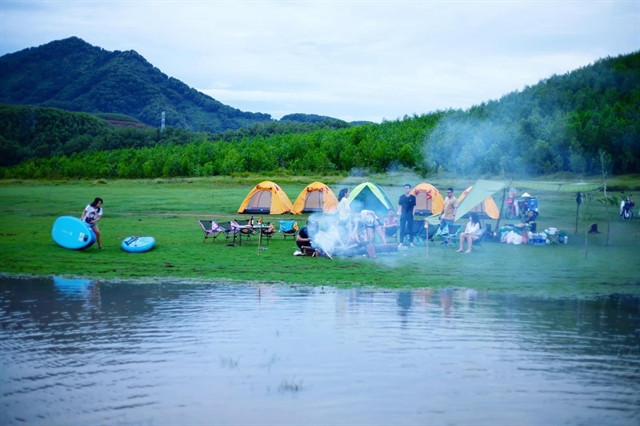 People camp at Sơn Thọ Lake. — Photo reviewhue.vn
The clear water lake is surrounded by forests and mountains, which is ideal for family picnics and team building activities.
Nicknamed "Huế's green prairie", the lake is popular for locals on the weekend and tourists throughout the year.
More homestays and resorts are planned to be built near the site to serve visitors, said Nguyễn Phúc Quý, a local official.
Thủy Tiên Lake – for the brave only
Thủy Tiên Lake is located in Thủy Bằng Commune, Hương Thủy town, some 10km to the southwest of Huế's centre. The lake on Thiên An Hill is popular among the youth as a "haunting" destination. A 50h water park was built here in 2000 and was deserted since June 2004. The vacant buildings, sculptors, game sites, water music stage and cruise ships have turned into a "weird" background for taking photos surrounded with green pine trees.
In January 2016, the Huffpost website said it was "not for the faint of heart", where "live crocodiles have mingled among abandoned waterslides, half-full aquarium tanks and a massive dragon structure whose interior looks vaguely like the set of a horror film."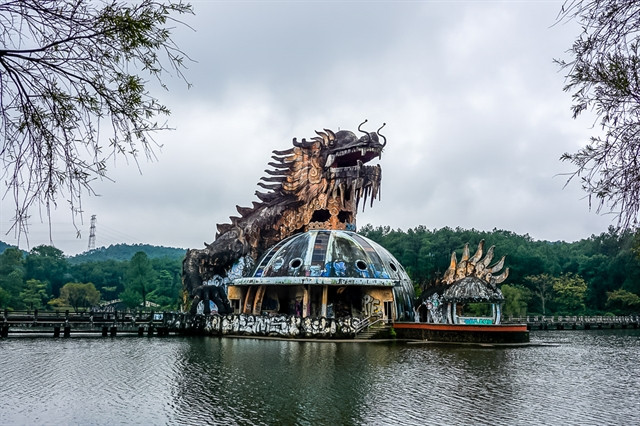 Abandoned water park still lures visitors. — Photo zing.vn
Discovering Huế, one should pay a visit to not only traditional sites but also natural landscapes to understand the culture, history and nature of the former royal capital.
Source: VNS